Family
Belongs to the helicase family. Yeast subtelomeric Y' repeat subfamily.
Species
Saccharomyces cerevisiae (strain ATCC 204508 / S288c)
Sequence
MQASLPGEKKVDTERLKRDLCPRKPIEIKYFSQICNDMMNKKDRLGDILHIILRACALNFGAGPRGGAGDEEDRSITNEEPIIPSVDEHGLKVCKLRSPNTPRRLRKTLDAVKALLVSSCACTARDLDIFDDNNGVAMWKWIKILYHEVAQETTLKDSYRITLVPSSDGISDTLTVIQSFSYSLLPVLSATYTSMIQQDASNCTLITTRTVHRSLD
Simulated SDS-PAGE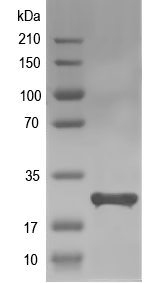 (Note: Representative image - actual molecular weight may vary depending on tag type and expression method)
Safety
Upon ordering, we will perform rigorous biosecurity and export control screening to ensure that order fulfillment is consistent with all legal and regulatory guidance.
Protein synthesis service