Description
Transcriptional regulator that specifically binds to GA-rich elements (GAGA-repeats) present in regulatory sequences of genes involved in developmental processes. Positively regulates the homeotic gene BKN3.
Family
Belongs to the BBR/BPC family.
Sequence
MDDDGSLSIRNWGFYETMKGNLGLQLMPSVTGGHRDTKPLLPNGTFLQHHTPPHHPPHSHHPRDYGNGEPSGGMPAEPPAIHMDFVRNEAWMHPSQHQHQHQHQHQHQHQHQHQLQHQHQHQHSRELKVLNAVPVGPAPHIGHPGHAVHHHPTGFGMMPDARGAHTLQMMQPQEPPVPDEEKITPPLVEDHSVVGSKPPVKKRQQGRQPKVPKPKKPKKDATPGEDGAPKARAPRSRGPLKPVEMVINGIDFDISRIPTPVCSCTGAPQQCYRWGAGGWQSACCTTSISTYPLPMNTKRRGARIAGRKMSQGAFKKVLEKLAGEGYNLNNPIDLKTFWAKHGTNKFVTIR
Simulated SDS-PAGE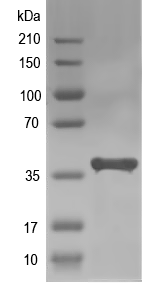 (Note: Representative image - actual molecular weight may vary depending on tag type and expression method)
Safety
Upon ordering, we will perform rigorous biosecurity and export control screening to ensure that order fulfillment is consistent with all legal and regulatory guidance.
Cell-Free protein synthesis
Have you tried producing BBR in a
cell-free
protein expression systems? We have solved
cell-free
protein expression scale-up and purification challenges so that you can obtain up to low-milligram quantities of proteins in hours.
Order Here