Description
Aldose sugar dehydrogenase with broad substrate specificity. The physiological substrate is unknown. Can oxidize glucose to gluconolactone. Can also utilize D-arabinose, L-arabinose and 2-deoxy-glucose. Has higher activity towards oligomeric sugars, such as maltose, maltotriose or cellobiose. It may function to input sugar-derived electrons into the respiratory network.
Family
Belongs to the PQQ oxidoreductase GdhB family.
Species
Escherichia coli (strain K12)
Sequence
MHRQSFFLVPLICLSSALWAAPATVNVEVLQDKLDHPWALAFLPDNHGMLITLRGGELRHWQAGKGLSAPLSGVPDVWAHGQGGLLDVVLAPDFAQSRRIWLSYSEVGDDGKAGTAVGYGRLSDDLSKVTDFRTVFRQMPKLSTGNHFGGRLVFDGKGYLFIALGENNQRPTAQDLDKLQGKLVRLTDQGEIPDDNPFIKESGARAEIWSYGIRNPQGMAMNPWSNALWLNEHGPRGGDEINIPQKGKNYGWPLATWGINYSGFKIPEAKGEIVAGTEQPVFYWKDSPAVSGMAFYNSDKFPQWQQKLFIGALKDKDVIVMSVNGDKVTEDGRILTDRGQRIRDVRTGPDGYLYVLTDESSGELLKVSPRN
Simulated SDS-PAGE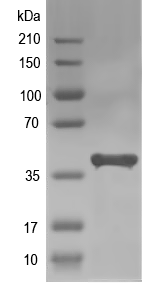 (Note: Representative image - actual molecular weight may vary depending on tag type and expression method)
Safety
Upon ordering, we will perform rigorous biosecurity and export control screening to ensure that order fulfillment is consistent with all legal and regulatory guidance.
Protein synthesis service